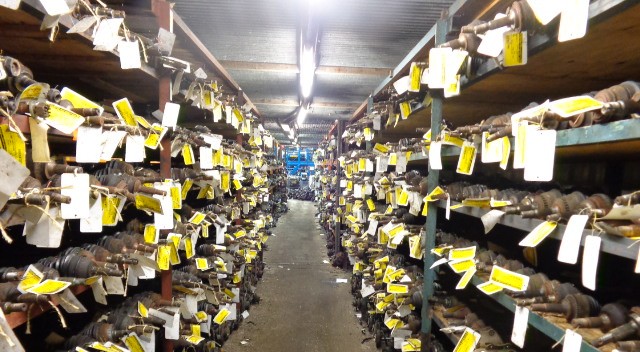 Disassembly
The salvage car is disassembled part by part. First, the car is stripped of the engine and all materials that can damage the environment, oil, liquids, glass, rubber etc. These materials are collected in separate containers. Next, the mechanic will efficiently disassemble the car part by part. Each part is labelled with the name, production year, brand and ID number of the car. The data is entered into the computer system. This means that the quality of stock of each part is recorded.
recycling
This efficient process allows us to recycle 95% of the car. Which helps preserve the environment while reducing the costs of repairs. Non-reusable parts end up in sorting bins and containers and are transported to recycling companies, such as Prometaal, RNA , Dusseldorp and van Gansewinkel. Inspection is conducted in compliance with uniform guidelines.
Sales
A car part is sold, e.g. reused. When you are looking for a part, our sales team is there to help you look and advise you. You can make your requests by phone, email, our parts line and at the reception desk. To make it even more efficient, take a look under 'parts' on our website. The part can be picked up or shipped.
Warehouse
Our 2200 mXNUMX warehouse guarantees a large stock. The parts have been sorted by brand. Our computer system allows us to see what parts are in stock and exactly where they are stored. In addition, we have a large outdoor site with scrap cars. DYI enthusiasts love to come source their own parts here.
Buying
A salvage car is bought, picked up and the details recorded in our database system: production year, bodywork ID, mileage, etc. As a result, we know exactly what cars and car parts are in stock.