Call directly: 010 - 4201897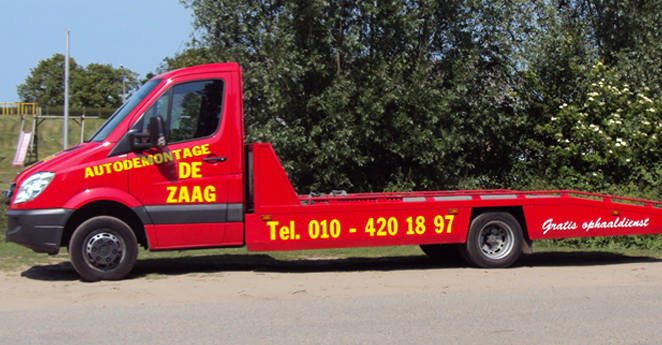 Autosloperij de Zaag is the number one scrap car procurement specialist in the greater Rotterdam area with a wide and very diverse assortment! For over 40 years, Autosloperij de Zaag has specialised in procuring, selling, disassembly and recycling of cars and car parts, and knows exactly what to do with your old car. We are happy to purchase an old car from you at a fair price!
Our scrap car procurement in the greater Rotterdam area
We have several pick-up vehicles driving around the country every day to pick up scrap cars for our scrapyard When a scrap car is procured from the Rotterdam area, our professional mechanics verify the condition of the car and its parts and proceed to disassemble and fix up the car and/or its parts. Next, a fixed-up car is sold and reusable parts are offered to DIY enthusiasts and car mechanics for a second life. In short, recycling of usable parts is what we are all about!
The warehouse
In addition to selling your scrap car to us, we also offer a warehouse in the Rotterdam area filled with car parts of various car brands. All parts are carefully registered so we know exactly what our current stock has to offer! Check out and order your parts online or pay a visit to our demolition facility in Krimpen aan den IJssel.